Wondering how to spend your time in Guernsey? Well, the island certainly doesn't disappoint whatever your interests. For many, the island's coast is its greatest draw; for others uncovering the heritage is a big enticement. There's also an incredible array of outdoor pursuits for all ages and abilities, luxury spas for some all-important me-time, and family-friendly fun too. Let's not forget the fabulous food offerings, be it fish and chips by the sea, an indulgent afternoon tea, good value pub-grub or a blow the budget dinner.
Here are our top 40 things to do in the Islands of Guernsey - you may need to plan a few trips to experience them all!
Island Wide
1. Hire a bike - The Islands of Guernsey are a wonderful place to cycle. Hire a bike or an e-bike, or even bring your own. There are 11 official cycle routes in Guernsey designed for a variety of abilities and levels, but of course you can simply plot your own course around the islands.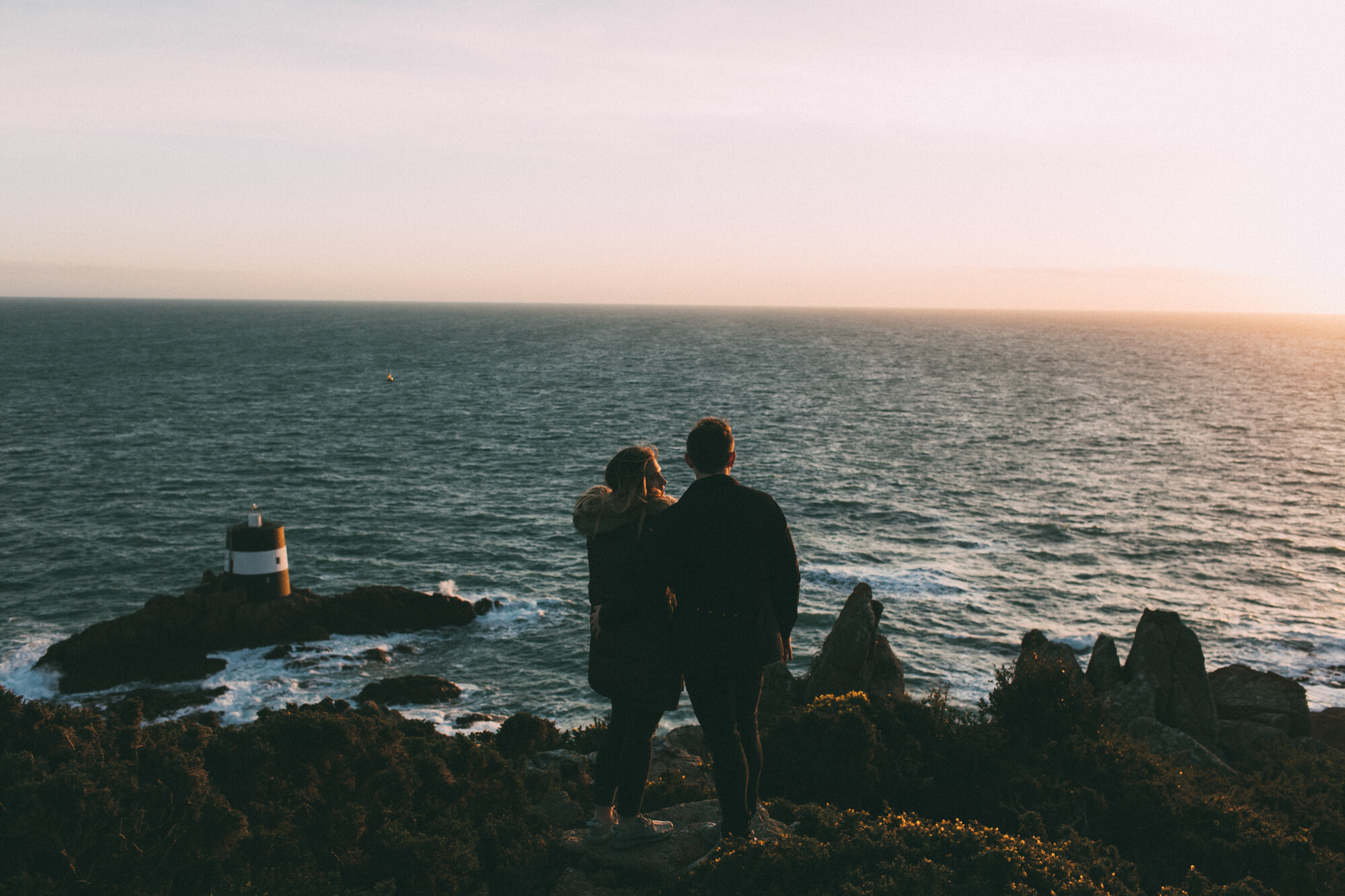 2. Try your hand at Stand Up Paddleboarding – Generally based at Pembroke Bay, the Guernsey Stand Up Paddleboard School, also uses beaches right around the island. It's a fun way to get out on the beautiful clear waters of the island.
3. Feel the adrenaline rush with Island RIB Voyages – A fast and fun experience on the water for all ages as you blast across the sea on an exciting boat trip! Visit rocks, bays, caves and islands and see the local wildlife on the way – seabirds, seals, puffins and even the occasional dolphin.
4. Be pampered at a top spa – If stunning natural scenery alone isn't enough to recharge your batteries, you can opt for some well-deserved pampering at a spa. Choose from the Old Government House, St Pierre Park or Bella Luce.
5. Take the plunge – Islanders have long championed the benefits of wild swimming and while you may be happy with a refreshing dip during warmer months, it's possible to take the plunge year round in Guernsey's clear waters.
6. Discover the island markets – Throughout Guernsey there are lots of wonderful little food and artisan markets including Fresh Friday Market in the main Market Square in St Peter Port, a Farmers Market at Sausmarez Manor every Saturday morning, and a pop-up Sustainable Market held monthly in the grounds of Les Cotils Hotel.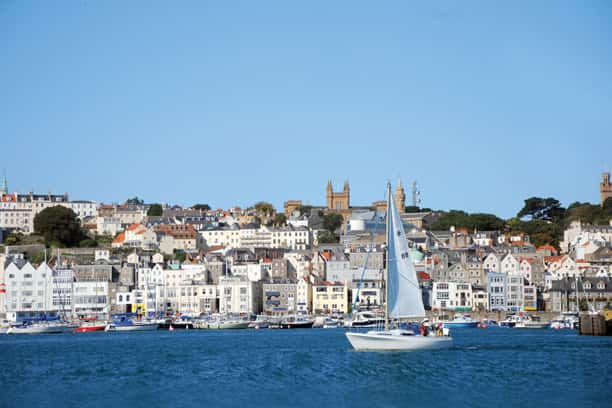 St. Peter Port
7. See the Noonday Gun fired at Castle Cornet- A visit to the 800-year old Castle Cornet is a must for all visitors to Guernsey. There's four museums housed within the castle and plenty to explore in the grounds. A must-see at midday is the Noonday Gun being fired by gunners in 19th century costume.
8. Indulge in afternoon tea at the Old Government House – Feel like royalty whilst you are served in the formal surroundings of the Sir John Coward Lounge or dine al fresco in the The Olive Grove Gardens overlooking the harbour and neighbouring islands.
9. Be amazed by Hauteville house - For fourteen years, Hauteville House was home to famous French writer Victor Hugo, during his time in exile from France. The gardens have also been faithfully renovated and include a kitchen garden, fruit trees and Hugo's United States of Europe Oak. Advanced booking is required.
10. Challenge the family at Pirate Bay Adventure Golf – Perfect for a family day out or to settle a score with your friends. Tackle the challenging course and find the treasure…and be careful not to walk the plank!
11. Take a stroll through Bluebell Woods – A wonderful place to walk at any time of the year, but particularly in springtime when the woodland floor becomes a carpet of blue flowers beneath the budding tree canopy. Located at the southern end of St Peter Port within walking distance of the town centre.
12. Discover La Vallette Underground Military Museum - The museum offers a wide range of exhibitions, displays and information on World War One, World War Two and the German Occupation of the island.
13. Capture the views from atop Victoria Tower - Climb the stairs to the highest point in St Peter Port at Victoria Tower and you're rewarded with panoramic views across the west, north and east coasts of Guernsey.
14. Get cultural at St James Concert Hall – This bustling cultural centre plays host to a dazzling array of events ranging from live music to club nights, classical performances, community-based events and visual art exhibitions.
15. Stroll around Candie Gardens – Once part of a private estate, the award-winning, restored Victorian Candie Gardens are a must. Aside from the beautiful flowers, lawns and fish ponds there's a museum, art gallery, the oldest known heated glass-house in the British Isles and spectacular views over St Peter Port.
16. Hop aboard the Petit Train – Departing from Albert Pier, the round trip lasts around 40 minutes and is a great way to see Guernsey's picturesque capital.
17. Spoil yourself with an exceptional seafood dinner – Visit La Nautique Restaurant in the heart of St Peter Port for world-class cuisine, excellent service and a perfect view of the marina. Along with an extensive menu of fish and seafood specialities, there's a moutwatering array of meat and vegetarian fare.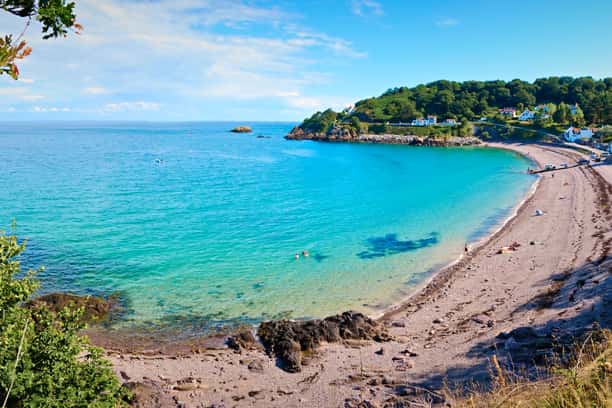 St. Martin
18. Take a jaunt around the Jerbourg Peninsula – Soak up the stunning view over the neighbouring islands and French coast from the south east tip. Jerboug Peninsula has wonderful cliff walks along with bird watching hides, World War II bunkers and a coastal kiosk.
19. Feast at the Fermain Beach Cafe – This award-winning café serves up a beautiful location, stunning views and excellent food! It's a fabulous place to sit and relax with friends or family whilst enjoying a bite to eat or even a jug of Pimms!
20. Book a Gin Experience – Visit the atmospheric cellar lounge at the Bella Luce to learn about Wheadon's Gin. Produced in traditional copper stills using locally sourced botanicals, there are a range of experiences available and highly recommended for gin lovers.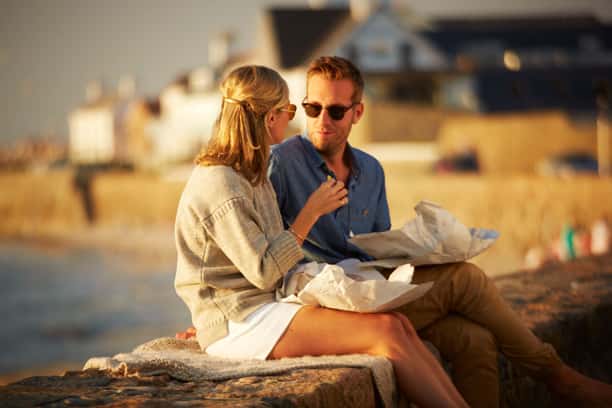 Castel
21. Try your hand at surfing – Located at Vazon Bay, Guernsey Surf School offers a range of lessons, courses and programmes to suit all ages and abilities.
22. Raise a glass at Rocquette Cider – At this family farm, which nestles in a sun-soaked valley. Learn about the history of cider making and how Rocquette cider and other products are made during a guided walk through the orchards. You'll then get to taste the ciders, fruit liqueurs and local cheeses too.
23. Follow the Saumarez Nature Trail – Enjoy some beautiful scenery near to Guernsey's west coast as you follow this nature trail from Cobo Bay to Saumarez Park.
24. Watch the sunset with Fish and Chips – Sit on the seawall at Cobo and watch the sun set whilst feasting on delicious fish & chips from Cobo Fish & Chip Bar, a favourite with locals and visitors alike.
Vale
25. Play a round at Royal Guernsey Golf Club – This superb 18-hole course on L'Ancresse Common will delight serious golfers.
Forest
26. Take a step back in time at Les Caches Farm – Dating from the 15th to the mid-19th century, are this collection of fine Guernsey farmhouses and outbuildings which now belong to the National Trust of Guernsey.
St Peter
27. Trek across the cobbled causeway to Lihou Island – Check the tides, pack your sandwiches and head across the causeway, which is only exposed at low tide, to Lihou Island. Explore the interesting wildlife, both above the water and below, take a swim in the Venus Pool and visit the Priory ruins. Be sure to get back across the causeway before the tide cuts the island off again!
Torteval
28. See the Table des Pions (The Fairy Ring) - Folklore suggests that if you walk around the Fairy Ring three times and then make a wish, it will come true.
St Sampson & St Andrew
29. Make your own candle - Visit Guernsey Candles workshop to see craftspeople at work, try your hand at making your own candle and browse the gift shop for souvenirs.
30. Go foraging for seaweed – Join a Seaweed Foraging Tour in Port Soif and learn all there is to know about Guernsey's seaweed and its many uses in cosmetics, farming, cooking, and the fashion industry. During this hands-on learning experience, you will even eat multiple types of fresh seaweed straight from the beach!
31. Experience the thrill of karting – Guernsey's only circuit, located in St Sampson, caters for all visitors, experienced or not. Booking is recommended.
32. Make a beeline for Surfside at Port Soif – This beach café and tea garden is a great choice if you fancy a delicious Guernsey ice cream or freshly made scone with jam and Guernsey cream.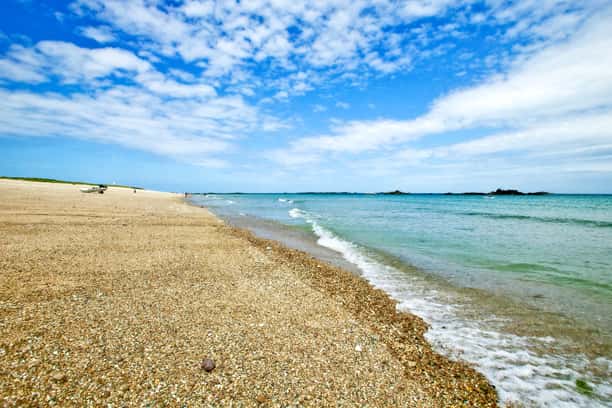 Herm
33. Take a day trip to Herm - Take a 20 minute ferry ride to the island of Herm and you may be forgiven for thinking you've arrived in paradise. You can walk the entire scenic coastal paths within a leisurely couple of hours taking in the many beautiful bays and coves along the way.
34. Laze on Shell Beach – One of the most wonderful beaches in the Channel Islands, its name derives from the millions of tiny shell fragments washed in from the Gulf Stream.
35. Go on a Puffin Patrol Adventure – Join Outdoor Guernsey for a two hour kayak tour to unobtrusively observe Herm's tiny iconic visitors.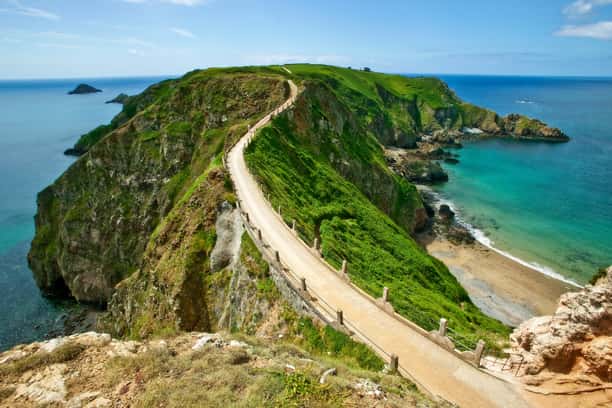 Sark
36. Take a day trip to Sark - Just a 50 minute ferry ride from Guernsey, the island of Sark feels like an entire world away. Traffic-free, embrace the island like a local and rent a bike to explore. Be sure to cycle over La Coupee which links Sark with Little Sark.
37. Admire La Seigneurie Gardens – Set within the grounds of a 17th century manor, the garden is considered one of the finest in the Channel Islands and is RHS Recommended.
38. Take a leisurely horse & carriage ride – A traditional and enchanting way to explore Sark is by horse-drawn carriage. Sit back and enjoy the scenery whilst the island's history is narrated to you by the driver.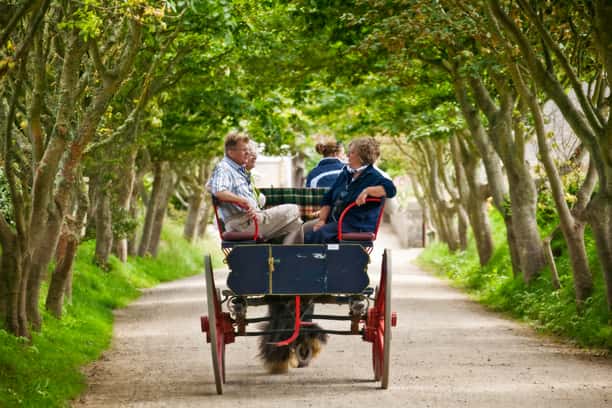 Alderney
39. Take a day trip to Alderney – Hop aboard the Salty Blonde which operates five days a week for the hour long trip to Alderney. Alternatively, Alderney is just a 15 minute flight from Guernsey. You're greeted with golden beaches, historical intrigue, rich wildlife and unique island charm.
40. Watch for wildlife – A playground for wildlife lovers, Alderney is a seasonal hotsport for many sea and wetland bird breeds, as well as dolphins and puffins.