Check availability & book online
Welcome to the captivating world of Guernsey Holidays, where turquoise waters and lush nature reserves beckon outdoor enthusiasts. Whether you prefer hiking along coastal footpaths, exploring breathtaking cliffs, or lounging on picturesque beaches, Guernsey offers an abundance of outdoor delights. Feel the thrill of being out on the water itself, embracing the island's scenic beauty from a different perspective. Delve into Guernsey's fascinating history and culture by visiting its numerous heritage sites, each offering a glimpse into the island's rich past. Indulge in the delectable local seafood, with the freshest catches of crab and lobster gracing the menus of many esteemed local restaurants. Embarking on a Guernsey adventure is effortless, with short flight or ferry options available from the UK. This island paradise becomes your doorstep, inviting you to immerse yourself in its wonders without hassle. Moreover, Guernsey serves as a perfect base for delightful island-hopping escapades. Plan your excursions to nearby Herm, Alderney, and Sark, and you'll find yourself yearning to return to Guernsey for more unforgettable experiences. For an added twist to your holiday, consider pairing your Guernsey stay with a visit to Jersey, a mere 15 minutes away by flight or an enjoyable 1-hour journey by sea. The enchantment of Guernsey Holidays awaits, promising cherished memories and an insatiable desire to relive the magic time and time again.
Stunning Guernsey Coastline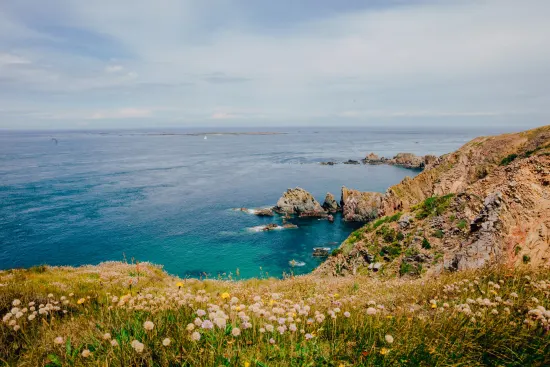 Guernsey holiday offers we recommend
Nestled in the English Channel between England and France, Guernsey is a stunning destination known for its picturesque landscapes, historic landmarks, and sandy beaches. Take a look at our latest offers. You might even find some fantastic added value offers including FREE nights, FREE room upgrades, FREE meal and more.
Browse special offers by season
Guernsey's unique blend of natural beauty, cultural events, outdoor activities and delicious food and drink make the island a wonderful retreat in any season.
Resorts in Guernsey
Popular areas include the capital city of St. Peter Port, with its charming harbor and historical landmarks.